Screw Shank Nails for Hard Woods Framing
Screw Shank Nails, also known as Pallet nails as they are popularly used in pallet construction. Also used for wooden packing cases and various flooring. The nails are supplied in welded coils for efficient work in the production line. The screw shank of the pallet nails allows superior holding power in the hard woods. Stainless steel nails and carbon steel screwed nails with HDG treatment are offered. We offer various lengths and shank sizes of pallet nails, also nails for coil nail guns with a modified magazine, commonly used in production lines.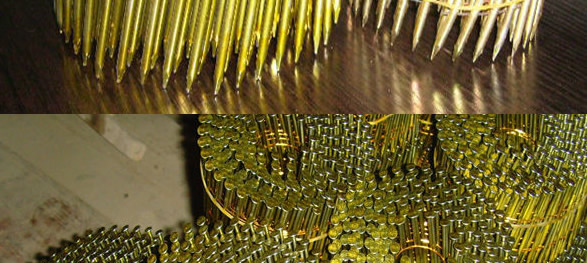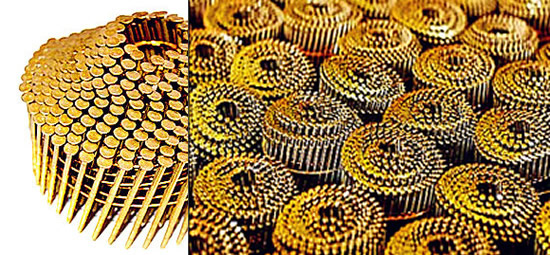 Typical screw shank pallet nails have Flat head, half-round head, screwed shank, diamond point or pointless. Surface treatment is hot dipped galvanized. Popular nail length comes from 30 mm to 150mm. Diameter: .099" .

Yellow Coated Galvanised Iron Coil Nails with Screw Shank:
Material:Q235&Q195or stainless steel
Colour Yellow or bright
Dia: from 0.083"to 4"(30mm to 100mm)
Surface treatment polished,vinyl,bright,electro-galvanized,hot dipped galvanized machanical galvanized
Angle:15degree or 16degree
Nail point: Diamond, blunt, chisel
Usage: Indusrial construction, foundry, fumiture repair, general framing and so on.
| | | |
| --- | --- | --- |
| Diameter(mm/inch) | Length(mm/inch) | Package(PCS*COIL)CTN |
| 2.1/0.083 | 32-55/--1-1/4"-2-1/4" | 400*40 |
| 2.3/0.092 | 32-65/--1-1/4"-2-1/2" | 300*30 |
| 2.5/0.099 | 38-70/--1-1/2"-2-3/4" | 300*30 |
| 0.87/0.113 | 50-90/--2-1/8"-3-1/2" | 250*20 |
| 3.05/0.120 | 60-90/--2-3/8"-3-1/2" | 200*20 |
| 3.33/0.131 | 65-100/--2-1/2"-4" | 200*20 |