Coil Roofing Nails(Flat or Conical Collated Nails Coil)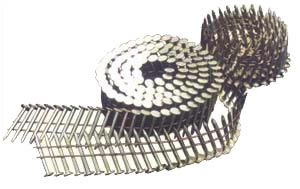 Coil roofing nails can be smooth nails, ring nails, screw nails according to shank types. Also written as collated nails. Usually welded twice into coils at 15 or 16 angle degree for easy and continuous operation in roofing works. Collated wire nails are the preferred fasteners for most crating and pallet siding and fencing applications. Using coil nails allow the operator to hold more nails in the nailing gun and reduce reloading time.

The nails come in all forms of vinyl coated and galvanized finish, as well as deformed shanks with varying holding power such as smooth, screw and ring.
The pints can be diamond point (DP), common round point (CP) and FP (flat point). Collated steel nails can be divided into conical coils and flat coils.
We manufacture and export all kinds of Coil Roofing Nails, the surface treatments can be bright, electro galvanized, or V. C. coating.Details are as follows:

Galvanized Pallet Roofing Coil Nail Screw Coil Nails:
Length:10mm-200mm; Shank Diameter(mm):0.90-6.50.
304 Grade SS Coil Roofing Nails, Diameter: 0.120'', Length: 3/4'' to 1-3/4'', Head: 3/8''
Shank: Smooth or Ring Shank.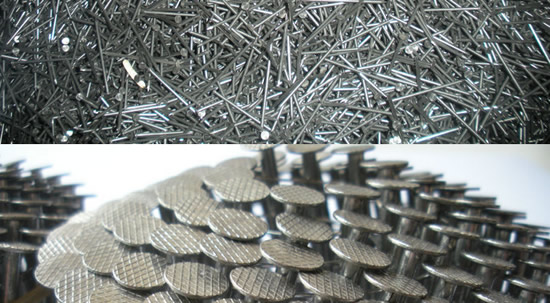 Stainless Bright Coil Nails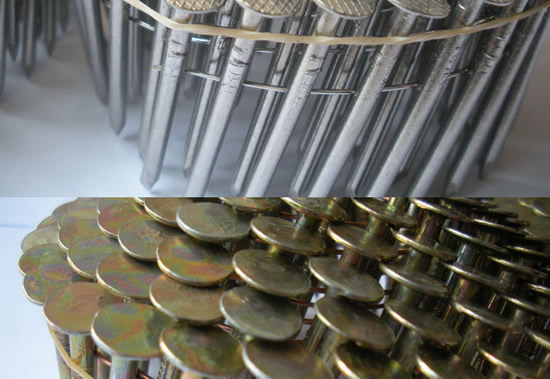 Galvanized Iron Wire Coil Nails Specifications with Nails and Coils Data:


Wire Diameter(Nail length)

Shank diameter

Expansile diameter

Head diameter

Head thickness

First welding position

Second welding position

Inside Coil Diameter

2.1(25-38mm)

2.1+/-0.02-0.05mm

2.1+0.15-0.3mm

5.0mm

0.8mm

8mm

19mm

25mm

2.1(45-50mm)

2.1+/-0.02-0.05mm

2.1+0.15-0.3mm

5.0mm

0.8mm

19mm

37mm

32mm

2.3x38mm

2.3+/-0.02-0.05mm

2.3+0.15-0.3mm

5.5mm

0.8mm

8mm

19mm

32mm

2.2-2.3(45-60mm)

2.3+/-0.02-0.05mm

2.3+0.15-0.3mm

5.5mm

0.8mm

19mm

37mm

32mm

2.5(35-38mm)

2.5+/-0.02-0.05mm

2.5+0.15-0.3mm

6.0mm

1.0mm

8mm

19mm

32mm

2.4-2.5(50-75mm)

2.5+/-0.02-0.05mm

2.5+0.15-0.3mm

6.0mm

1.0mm

19mm

37mm

32mm

2.7-2.9(50-83mm)

2.7+/-0.02-0.05mm

2.7+0.15-0.3mm

7.1mm

1.0-1.1mm

19mm

37mm

32mm

3.0-3.1(80-90mm)

3.0+/-0.02-0.05mm

3.0+0.15-0.3mm

7.4mm

1.3mm

19mm

37mm

32mm

3.1x100mm

3.1+/-0.02-0.05mm

3.1+0.15-0.3mm

7.4mm

1.3mm

19mm

52mm

32mm

Coiled Nails Wire Gauge in Inch:
| | | |
| --- | --- | --- |
| Wire Gauge | Length | Package (pcs/box) |
| .083'' | 1-1/4" | 16000 |
| .083'' | 1-1/2'' | 16000 |
| .083'' | 1-3/4'' | 16000 |
| .083'' | 2'' | 12000 |
| .090'' | 1-1/2'' | 12000 |
| .090'' | 1-3/4'' | 12000 |
| .090'' | 2'' | 9000 |
| .090'' | 2-1/4'' | 9000 |
| .099'' | 1-1/2'' | 12000 |
| .099'' | 1-3/4'' | 9000 |
| .099'' | 2'' | 9000 |
| .099'' | 2-1/4'' | 9000 |
| .099'' | 2-1/2'' | 9000 |
| .105'' | 1-1/2'' | 7500 |
| .105'' | 2'' | 7500 |
| .105'' | 2-1/4'' | 7500 |
| .105'' | 2-1/2'' | 7500 |
| .105'' | 2-3/4'' | 5000 |
| .113'' | 2'' | 5000 |
| .113'' | 2-1/4'' | 5000 |
| .113'' | 2-3/8'' | 5000 |
| .113'' | 2-1/2'' | 5000 |
| .113'' | 2-3/4'' | 5000 |
| .113'' | 3'' | 5000 |
| .113'' | 3-1/4'' | 4500 |
| .120'' | 2-1/2'' | 5000 |
| .120'' | 2-3/4'' | 5000 |
| .120'' | 3'' | 4500 |
| .120'' | 3-1/4'' | 4500 |
| .120'' | 3-1/2'' | 4000 |
| .131'' | 2-1/2'' | 4500 |
| .131'' | 3'' | 4000 |
| .131'' | 3-1/4'' | 4000 |
| .131'' | 3-1/2'' | 4000 |

Roofing Coil Nails with Smooth Shanks:
Specification:

PCS/CTN:

3/4″×3.05

120×60=7200

7/8″×3.05

1″×3.05

11/4″×3.05

13/4″×3.05
Size:3/4"x11G, 1"x11G, 1- 1/4"x11G, 1-1/2"x11G, 1"x14G,
Length:19mm-45mm
Shank diameter:11G,3mm
Head diameter:5mm-8mm
Material:Iron
Finish:galvanized
Color:yellow,silver,colorful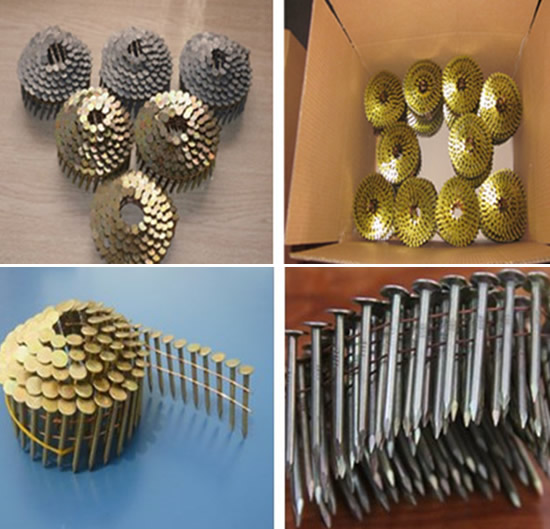 Yellow coated screw shank pallet coils nails:
Specifications:0.083",0.09",0.099",0.113",0.120",0.131",0.135"
Technical standards:size: 0.083",0.09",0.099",0.113",0.120",0.131",0.135"
Length:1-1/4"-3"
Degree:16,15 degree
Product description: Screw shank twisted coil nails with diamont point/Without point
Finish:bright/Yellow coated/E.G/H.D.G
Shank:screw
Material:ss304 and ss316,Q195 AND Q235
Packing:300pcsx30rolls/CTN or accoring to requirement with pallets