Decorative Furniture Nails for Upholstery Use
Upholstery decorative nails for the furniture making and antique style house decoration. Major styles include round cap nails color plated for base iron and copper material, drywall nails with ornamental phosphor coating, antique furniture nails, brad furniture nails and shoe tack nails. We supply the following color platings: nickel plated; artificial gold plated; anti-rusting gold; yellow copper; phosphor coated; requested colors.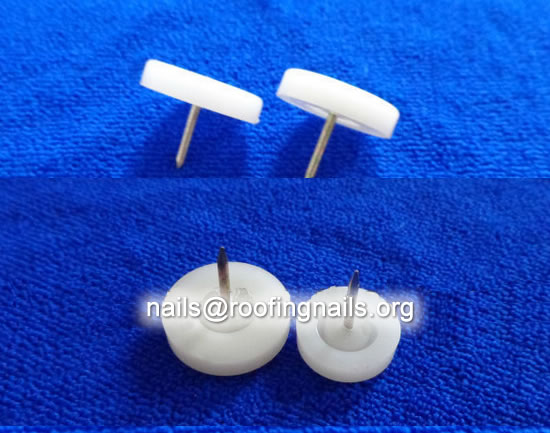 1. Common Round Cap Furniture Nails:
Sizes: Cap Dia. 16mm ; Pin Dia. 1.6mm ; Height 20mm
Material: iron ; copper
Colors: usual in nickel plated; artificial gold plated; requested colors.

Common round nails used as Push pins, thumb nails and decorative nails and underlay nails (Underlay nails: 1-1/4 to 2-1/2" ).

2. Phosphate-coated Drywall Nails
Cup head: 1-1/4 to 2-1/4"
Neoprene washer roofing nails: 1-1/2 to 3-1/2"
Pole barn nails: 3-1/2 to 6"
Colored-panel board nails: 1 to 1-5/8"
Square-head roofing nails (smooth): 3/4 to 4"

3. Antique Furniture Decorative Nails:
Material: iron
Color: antique copper ,size: Dia 19mm, L:22mm;H:6mm.
4. Headless Nails / Brad Furniture Nail
Material:Q195,Q235
Size:1",1-1/2",2",2-1/2",3",4"
Finish:Bright,EG,H.D.G
Packing:Bulk in 25kg/Carton
5. Shoe tack nail for furniture uses
Treatment: galvanized blue
Size: 3/8",3/4",5/8",1"
Packing: 1lb x 56box/112b
Material: iron, Q235

Surface Treatment: galvanized blue
Packing of Nails:

1)1lb/box, 56box in a carton
2)1lb/box, 112box in a wooden case
3)25 kgs in a carton in bulk